The refugee crisis is not over. Since the EU Turkey Statement took effect in March 2016, the number of refugees in Greece has far outgrown its capacity. Greece is no longer a temporary place to rest as part of a journey to Europe. It has rather become a prison, a wall guarding the EU. Refugees arrive much faster than they are being processed, leading to long and uncertain waiting times. In September 2015, EU countries agreed to relocate more than sixty thousand refugees from Greece over the next two years. As of January 2017, however, only eight thousand of those promised relocations have occurred.
With, amongst others, Ina Schebler (Verhalen van Vluchtelingen), Masood Qahar (Stuck in Greece), Prof. Yolande Jansen (Senior researcher and lecturer at the Amsterdam Centre for Globalization Studies), Farij Manoukian, Noemi Mena Montes (expert on immigration) en Abdulazez Dukhan (Initiator Photography Project 'Through Refugee Eyes').
No, this is not Europe. No. … It's a prison here. Not Europe.
– Methkal
Methkal, Omar, and Abdulazez are three Syrian refugees currently stuck in Greece. They tell their stories through poetry and photography, shedding light on the personal side of the situation. Throughout the evening, they will share their experiences with you. We will hold interviews over skype, in which you also get a chance to ask them your questions. Separated over distance and circumstance, we hope to bring us closer to each other. Their work will be shown in an exhibition at Pakhuis de Zwijger during April.
The evening is divided in three parts and is open to everyone from 19:00 to 21:45. However, it is also possible to leave early or arrive later, in the breaks. During these breaks there will be time for viewing the work of the artists and enjoying some good conversation and Syrian snacks.
The evening will also include a lecture by an academic in the field of migration, to give a deeper understanding of the situation. Furthermore, stories will be told by both refugees and volunteers, whose experiences give more insight into the situation of refugees at the edges of Europe today.
And I hope someone there in Europe could listen to this and hear us; we are human, [and] need your help. We are human, not terrorists, not anything. We escaped from war, to another war. Save us. Please.
– Omar
We invite you to listen.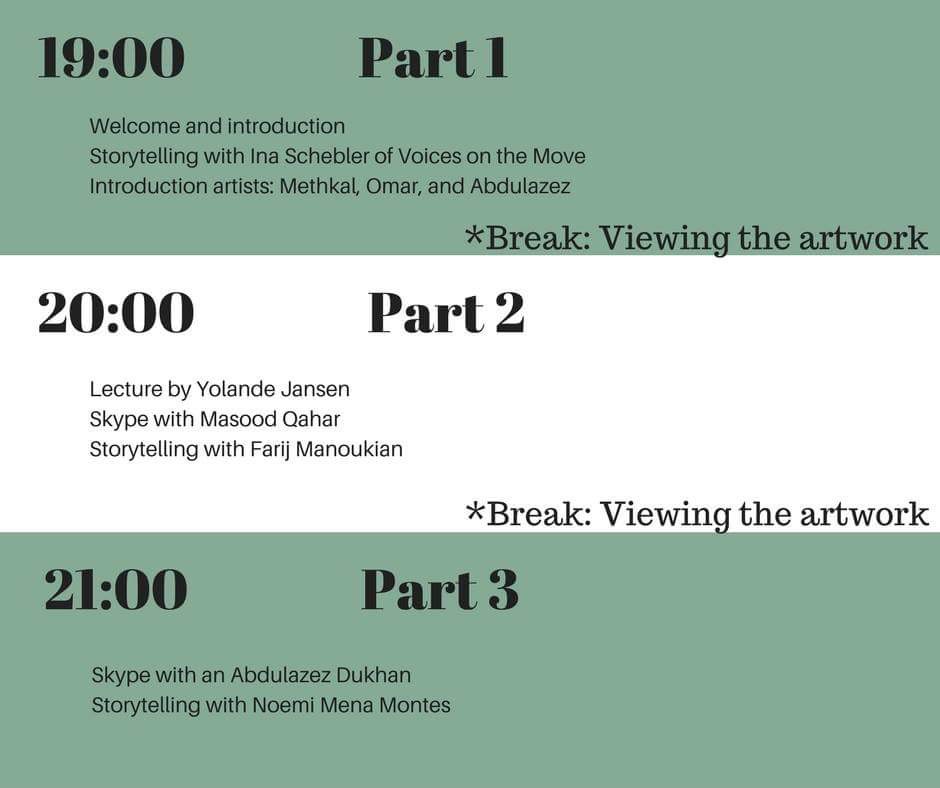 The event and exhibition are a joint initiative of Verhalen van Vluchtelingen and Voices on the Move:
Verhalen van Vluchtelingen offers a space where, through stories, the human aspect of experience is emphasized. The new interactions that are made possible can lead to inspiring initiatives and projects. To stay up to date of their events, visit facebook.com/verhalenvanvluchtelingen
Voices on the Move is a platform for people who once fled their homes to share their stories with the world. And it is for everyone to listen to them. Find them on voicesonthemove.com