You may know Detroit as a poster child for urban decline, but times are changing. A walk through downtown Detroit reveals a dream city of bright lights, as elegant Detroiters spill out of exciting bars in meticulously restored skyscrapers. At the heart of Detroit's ongoing downward spiral, downtown wrecking balls and tumbleweeds have made way for building cranes and craft cocktails. Who is choreographing this seeming mirage? Does it foretell our own future?
Urbanist Conrad Kickert presents two centuries of downtown change from his new book 'Dream City – creation, destruction and reinvention in downtown Detroit', followed by a discussion with historians and urbanists on the lessons we can learn from Detroit. From the value of experience and tourism to the dwindling role of governments in shaping the equitable city, downtown Detroit may soon come to an inner city near you.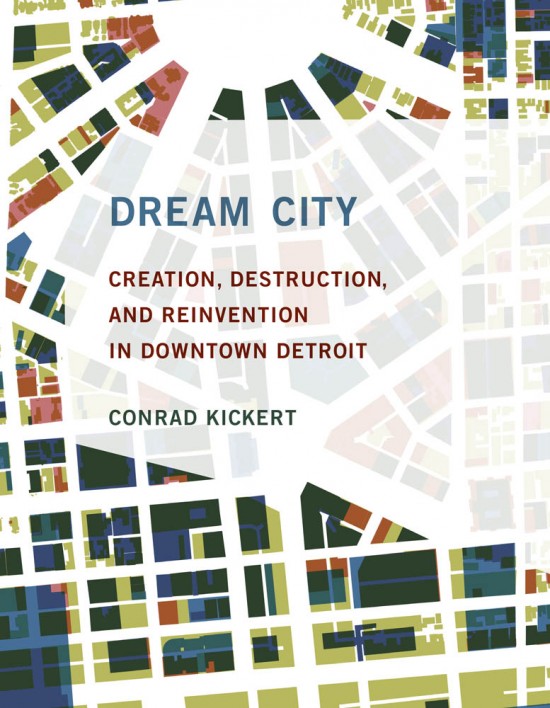 About Dream City
Tracing two centuries of rise, fall, and rebirth in the heart of downtown Detroit.
Downtown Detroit is in the midst of an astonishing rebirth. Its sidewalks have become a dreamland for an aspiring creative class, filled with shoppers, office workers, and restaurant-goers. Cranes dot the skyline, replacing the wrecking balls seen there only a few years ago. But venture a few blocks in any direction and this liveliness gives way to urban blight, a nightmare cityscape of crumbling concrete, barbed wire, and debris. In Dream City, urban designer Conrad Kickert examines the paradoxes of Detroit's landscape of extremes, arguing that the current reinvention of downtown is the expression of two centuries of Detroiters' conflicting hopes and dreams. Kickert demonstrates the materialization of these dreams with a series of detailed original morphological maps that trace downtown's rise, fall, and rebirth.