Sunday 18 March marks the two year anniversary of the signing of the EU-Turkey deal. A necessary evil according to some, a diabolical pact according to others. Meanwhile, the deal has left thousands of refugees stranded on Lesbos living in appaling conditions. The documentary 'De Deal' shows the consequences of the EU-Turkey deal and looks at possible solutions for the current European refugee policy. The local community on Lesbos, volunteers from across Europe, and the refugees themselves try hard to alleviate the situation. What is the Dutch involvement on Lesbos, and how can we contribute to a better reception and living conditions for the refugees? The documentary will be followed by a talk with the documentary makers.
Met in dit programma onder anderen
Time for a critical analysis of the effectiveness of the deal. Does the deal work at all, and if so, for whom does it work? These are the questions that the documentary addresses. While Europe continues to tighten it's immigration policy, through building walls and since two years through this refugee trading deal with Turkey, dozens of local civil and voluntary initiatives are working on offering the refugees a more humane reception. During this meeting of the vluchtroute we will show the documentary 'De Deal', after which there will be a discussion with the documentary makers, several citizen's initiatives, lawyers, refugee organisations, and researchers. Both the problems as well as the solutions will be explored. Let yourself be inspired during this evening to take action yourself.
De Deal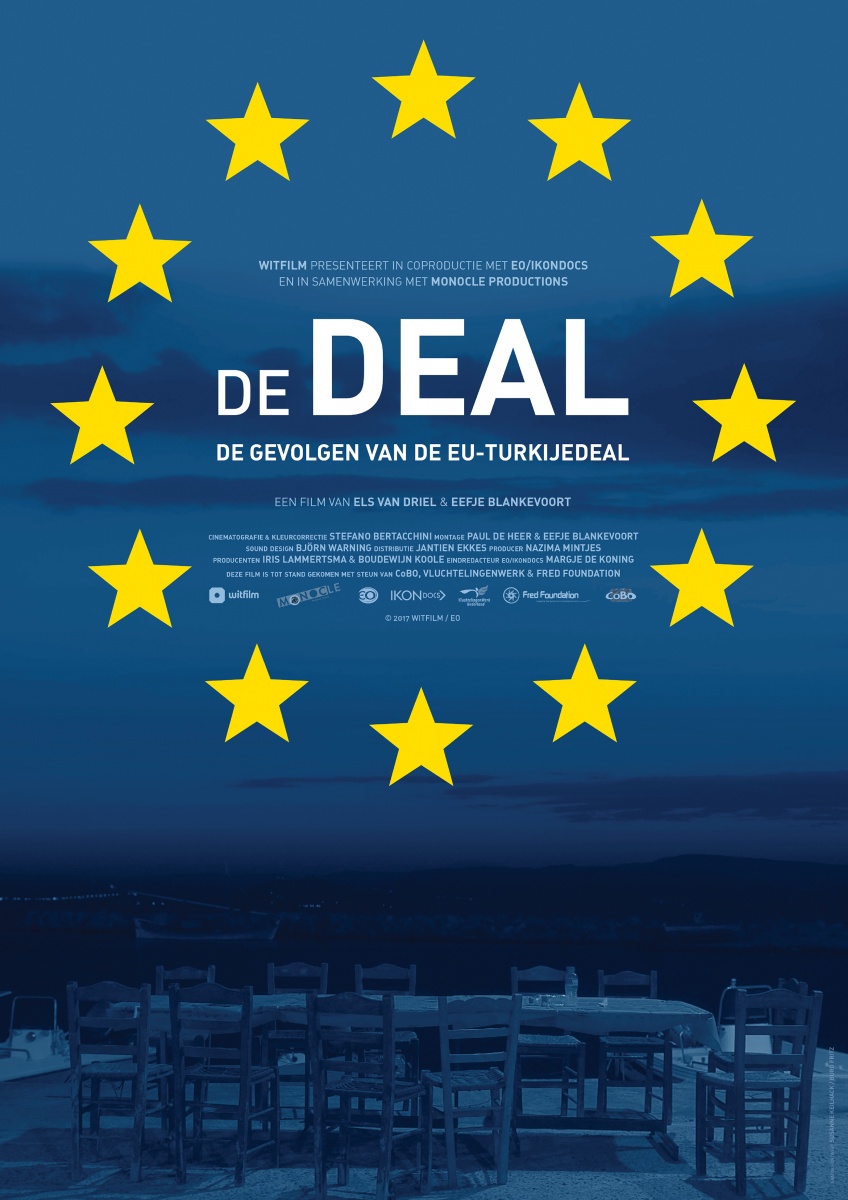 The documentary 'De Deal' is by Eefje Blankevoort and Els van Driel, who also founded de Asielzoekmachine. The documentary shows what the Europe's asylum policy in Greece looks like in practice after the EU-Turkey deal by exploring the consequences of the deal and the possible solutions to the European refugee policy. The documentary follows various characters such as the mind behind the deal, Gerald Knaus, and citizens of Lesbos who try to help the refugees. The documentary records the appaling living conditions of the refugees live, while at the same time it shows the ways in which the local communities and volunteers from across Europe try to improve their situation.
A film by Eefje Blankevoort and Els van Driel
Witfilm & Monocle Productions in coproduction with EO/IKONdocs
2017
52 minutes
Dutch subtitles