10-jarig jubileum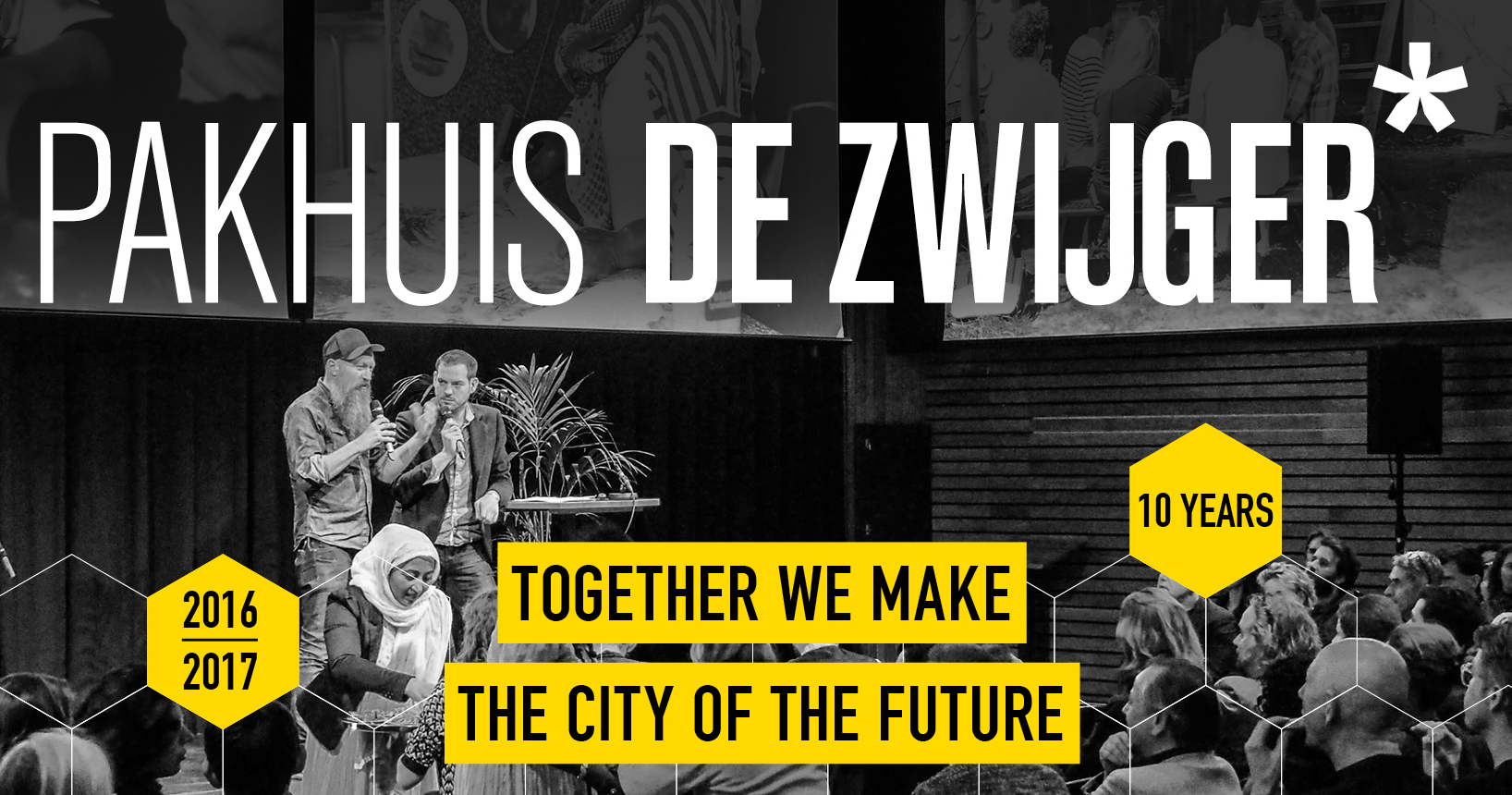 — for English scroll down —-
In 2016/2017 vieren wij het 10-jarig jubileum van Pakhuis de Zwijger. Het begon allemaal met een droom die twintig jaar geleden realiteit werd. Een droom, voortgekomen uit de Cultuurfabriek en de directie van Over het IJ festival. Het zuidelijke deel van de IJ-bank was toen nog een kale, afgelegen plek met oude pakhuizen. Architect André van Stigt transformeerde deze plek tot hét praathuis van de 21e eeuw, waarin dialoog en verbinding centraal staat in plaats van debat en tegenstand. Dit stimuleert de samenwerking naar een leefbare stad, zet urgente onderwerpen op de agenda en linkt ze aan de creatieve industrie van de stad. In Pakhuis de Zwijger draait het om het integreren en verbinden van verschillende domeinen en disciplines, het delen van kennis en ervaringen, en het ontwerpen en indelen van de toekomst van ons alledaagse leven.
Met een bijzonder team van medewerkers houden we het pakhuis bezig en creëren we ontelbaar veel programma's. Van projecten en ontwerpsessies tot presentaties, filmscreenings en talkshows. 10 per jaar in 2006 tot meer dan 600 per jaar in 2016, met 100.000+ leden die ons online en offline op de voet volgen. Samen met zo'n 200 partners organiseren we City Expeditions en denktanken en creëren zo lokale, nationale en internationale netwerken van City Makers en City Embassies. Iedereen is welkom, ongeacht leeftijd, geslacht, afkomst of culturele achtergrond. Zo representeert Pakhuis de Zwijger de bottom-up voorhoede: de mensen met lef en doorzettingsvermogen die actief aan de sociale problemen in de stad bijdragen en andere communities inspireren en activeren om zo het collectieve belang te behartigen.
Who owns the city?
In de komende jaren focussen we ons vooral op de vraag: Who owns the city?
Wordt Amsterdam echt een veelomvattende stad en hoe kunnen we de Amsterdamse waarden herdefiniëren? Zijn we in staat om buurten die toe zijn aan innovatie te verbinden en kunnen onze stadmakers het verschil maken in onze stedelijke uitdagingen? Gaan we allemaal profiteren van de economische groei in deze metropool? Kunnen we onze oude economie herscheppen en veranderen in een nieuwe, groene en circulaire economie? Zijn we er zeker van dat onze kinderen straks opgroeien in een leefbare, duurzame en zelfvoorzienende stad met gelijke kansen voor iedereen?
In 2017 gaan we verder met onze dagelijkse programma's en nieuwe activiteiten die deze onderwerpen behandelen, in samenwerking met al onze partners.
City Makers Square
Om ons 10-jarig jubileum vieren hebben we het eerste officiële Stadmakersplein geintroduceerd, recht voor de deuren van Pakhuis de Zwijger:
— English —
In 2016/2017 we celebrate the tenth birthday of Pakhuis de Zwijger. It started with a dream, sprung from Cultuurfabriek and the directorship of Over het IJ Festival almost 20 years ago, which became reality in 2006 at the southern part of the IJ-bank – at that time a bare plain with old warehouses far away from the city centre. A major challenge to start a successful cultural enterprise, to say the least. Transformed by architect André van Stigt, today the former refrigerated warehouse functions as a debate centre of the 21st century, putting dialogue before debate and connection before opposition. It stimulates collaboration towards a livable city, puts urgent matters on the agenda, linking them to the creative industry. It is about integrating, connecting domains and disciplines, sharing knowledge and experiences, and designing and imagineering the future of everyday living.
With an amazing team of coworkers, we keep the building buzzing and created countless special projects, design sessions, presentations, movie screenings and talkshows – from tens a year in the beginning to over 600 in 2016, gathering a community close to 100,000 members following us live and online. As an internationally operating platform for the city in transition we do research, develop online platforms, set up meetings and organise challenges, City Expeditions, and think tanks together with some two hundred partners while building local, national and international networks of City Makers and City Embassies. We welcome everyone regardless of age, sex, race or cultural background. At the same time, it represents the bottom-up vanguard: people with guts and perseverance, contributing actively to societal issues in the city, inspiring and activating people and communities and putting the collective interest.
Who owns the city?
In the next few years, we will focus on the question: Who owns the city? Can we rethink the Amsterdam values? Will Amsterdam become a real inclusive city? Are we able to connect neighbourhoods to necessary innovations and can makers also make the difference in urgent urban challenges? Will we all profit from the economic growth in the metropolitan region? Are we able to turn our old economy into a new green and circular one? Can we make sure our children will grow up in a livable, sustainable and self-su cient city with equal opportunities for everyone?
In 2017, we will – in collaboration with all our partners – continue our daily programmes and organise new activities that will address these matters.
City Makers Square
To celebrate our 10th anniversary, we have installed the first official City Makers Square, right in front of Pakhuis de Zwijger: