'Lähiöfest2017' – festival of neighbourhoods – is a new event and platform for discussion of the future of cities. Our director Egbert Fransen is one of the keynote speakers during the 'People-Driven City' seminar on September 29 in Helsinki.
The seminar brings together experts and activists involved in projects that combine placemaking and city planning, entrepreneurship and community work. It presents different initiatives from bottom-up – entrepreneurs, NGOs, private citizens – but also top-down. What creates value and identity in a place? Who are the movers and shakers? What kind of new 'catalyst' roles could the civil servants and research institutes such as universities and larger enterprises take? How does social entrepreneurship work in neighbourhoods?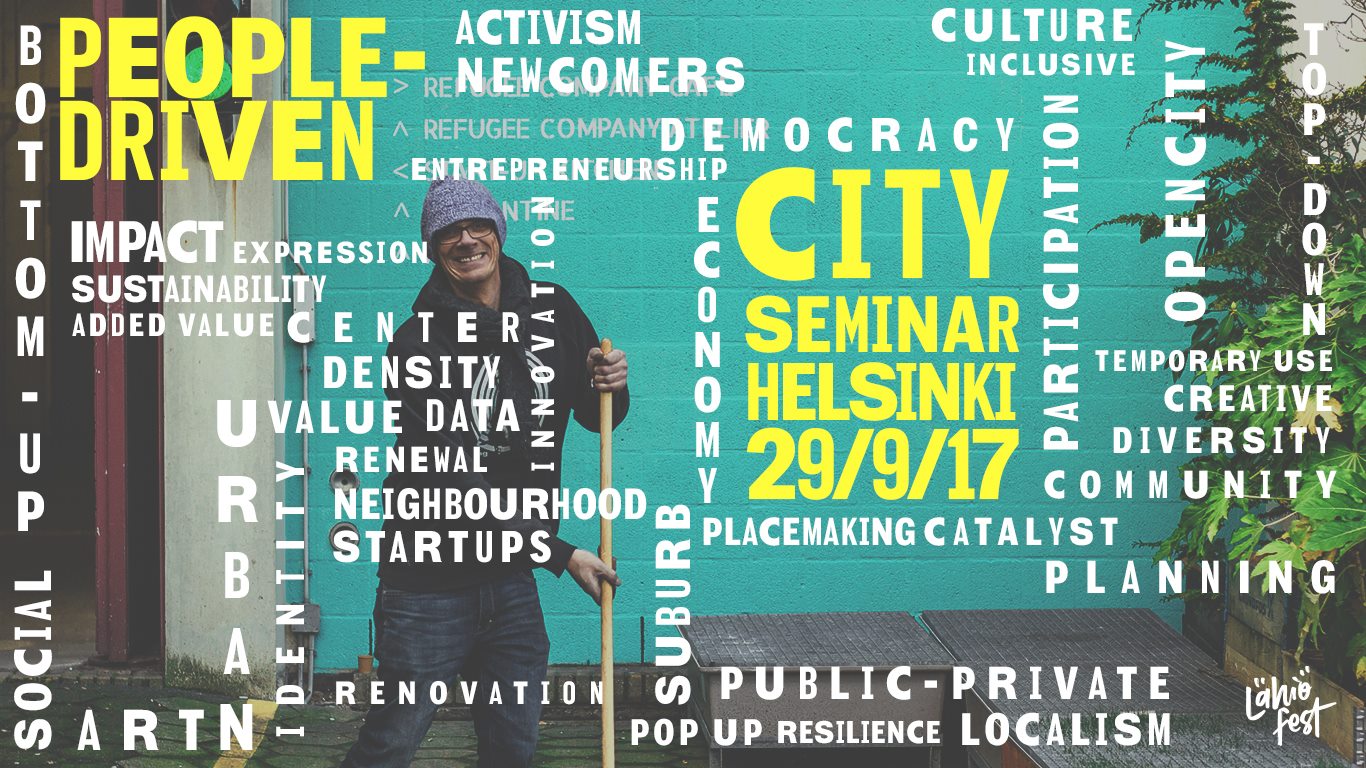 The seminar organizers are happy to invite some of the most prominent city planners, researchers, entrepreneurs and innovators from the cities of Amsterdam, London, Rotterdam, Tallinn, Stockholm and Helsinki. They will share their insights on large scale city planning, renovation and renewal of existing neighbourhoods, social entrepreneurship, placemaking, inclusiveness and sustainability. Amongst Egbert Fransen, Anni Sinnemäki (Deputy Mayor for the City of Helsinki), Kees Christiaanse (KCAP), Xander Vermeulen Windsant (NL Architects), Madeleine Nobs (NCC) and Mari Vaattovaara (Professor of Urban Geography at the University of Helsinki) will take the stage.
In addition to these keynote speakers, there will be an in-depth conversation about how urbanisation drives economy, what helps to increase value in areas, and how to renew neighbourhoods in an ecologically, economically and socially sustainable way. The seminar will also present some of the most interesting and inspiring recent initiatives from European cities: among them PopBrixton, Lola Lik, Telliskivi Creative City, Yhteismaa, Restaurant Day and more.
Egbert Fransen is invited to the seminar by Embassy of the Netherlands in Finland.